Some people dream of winning the lottery. Others are waiting for a rich relative to leave a substantial inheritance. Yet, many people in the United States, and specifically in Florida and California, are the rightful owners of extensive amounts of property or money – and they often have absolutely no idea.
Not only that, but there are a surprising number of people who, when they hear that they may be able to receive unclaimed money simply ignore the possibility—even though they might be able to pocket an extra, perhaps, $20,000. These individuals are often either afraid of scams, or they don't feel they have the know-how or time to take on the process.
Both of these hesitations are entirely understandable. However, a professional service with a 95% success rate has the experience to offer you the help you need while, of course, avoiding scams.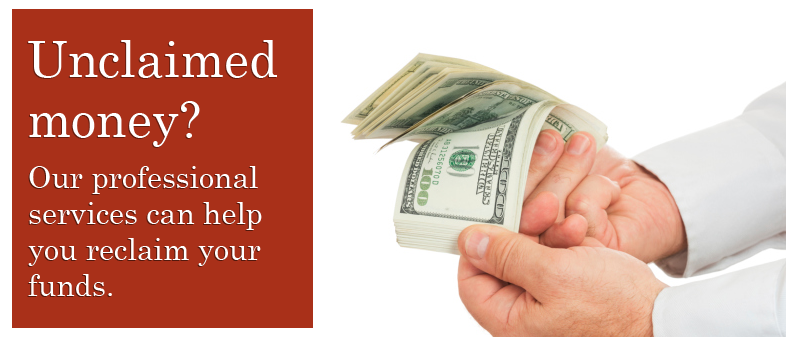 Are you one of these people who own a portion of the $56 billion of unclaimed property in the United States? If so, we can help you claim what's yours right now.
If you've discovered that you have unclaimed money or property in Florida or California, read on because we have information that you need to know.
Unclaimed Money: You Can Claim It Yourself, but…
If you discover you are the owner of unclaimed money or property, there are a lot of people who will tell you that you can claim the money yourself. This is absolutely true. An agent is not required to help you through the process, but it may be the smart to work with them.
Many individuals find that working with a reclamation company to recover their unclaimed funds is very helpful for many reasons. Here's a snapshot of the benefits of working with a reclamation company:
A. Convenience: We Handle the Logistics, Research, and Communication
Time.
Most people don't have extra time in a day. By the time the regular, routine requirements of daily life are finished, it's far past time to get to bed. Many individuals find that their busy schedules don't allow time to focus on reclamation efforts and dealings with banks and other financial companies.
Stress.
It isn't always easy to interface with government agencies in an attempt to recover unclaimed money. There are questions and complexities to prove ownership that not only require your time and money, but they can also cause frustration.  You learn that you are not equipped to handle issues that come up as the reclamation process unfolds.
For these and other reasons numerous clients that we've served have come to us asking for help. After realizing that they simply don't have margin or the financial resources in their life to take on the process, we're able to come alongside them document their ownership and claim their unclaimed property on their behalf.
B. Complex Situations: We're Professionals Who can Handle Complicated Cases
We have developed a reputation for taking on the toughest cases in Florida and California. Due to our experience, connections, and persistence, we've developed a level of notoriety for solving complex issues involving a broad range of personal and administrative situations.
Are you afraid of attempting to claim the lost money or property that is rightfully yours due to complex issues surrounding the case? We can help, and we would be glad to do so. Our 95% success rate is a testimony to our proven abilities to help you reclaim your lost money or property.
Give us a call to ask about your case. All it takes is 15 minutes of your time, and we can do the rest. Learn more about this opportunity to reclaim the government held assets that are legally yours.